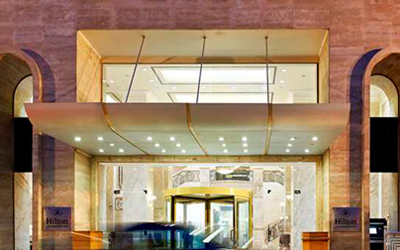 The Hotel is ideally located in a very quiet spot on the island of Zamalek, the most prestigious district in Cairo. The hotel enjoys a breathtaking view of the majestic Nile River. The hotel is situated 20 km away from Cairo International Airport, a few minutes from City Centre, Egyptian Museum, Cairo Tower, Sakkara, Egyptian Bazaar "Khan El Khalily" the and Giza Pyramids and Sphinx. The hotel provides 164 newly renovated suites and guest rooms to accommodate all needs – with state of the art amenities, to ensure guests' maximum comfort, offering unmatched quality of service and luxury. – out of which are 76 suites including: 4 luxurious penthouses, 28 elegant "Three Bedroom Nile Suites", 44 "two Bedroom Nile Suites", and 88 guest rooms
Hotel Address:
21, Mohamed Mazhar Street, Zamalek, Cairo, Egypt
Zip Code:
11211
Telephone:
+20 2 27370055
Rating:

Details
Restaurants
Photos
Guest Rooms
king Hilton deluxe Nile (35 sq m which features a private balcony overlooking the Nile)
king Hilton guest room Nile (25 sq m which features a comfortable bed and a private balcony overlooking the Nile)
twin Hilton guest room (26 sq m which features comfortable twin beds and impressive views of the city)
2 Bedroom suite Nile view (180 sq m, , fully equipped kitchen)
3 Bedroom suite Nile view (280 sq m, which benefits from a large reception area, dining room and fully equipped kitchen, offers stunning views of the Nile River, one master bedroom and two additional bedrooms
Penthouse suite Nile view (360 sq m, offer. A two-storey duplex suite, it comprises a Master Bedroom and two additional bedrooms as well as a nanny's quarter, large reception and dining areas
---
Conference & Convention Facilities
The hotel offer 3 impressive meeting rooms fully equipped with the latest state of the art audio and video equipment, to accommodate from 12 up to 60 guests with maximum comfort and convenience.
---
Recreation & Guest Services
Outdoor adults and kids swimming pool, heated in winter, Kids playing corner, fully equipped Health Club, Business Centre and Beauty salon.