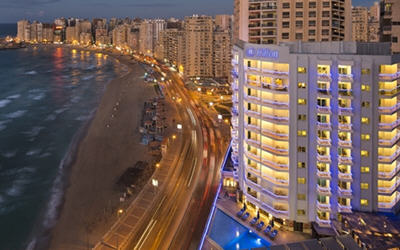 Discover the beauty of Alexandria and enjoy stunning views of the Mediterranean Sea when you stay at the luxurious Hilton Alexandria Corniche hotel. Boasting an ideal location in the heart of Alexandria, this stylish hotel features its own private beach and close to a wealth of local attractions.
Hotel Address:
544 El Geish Avenue, Sidi Bishr, Alexandria, Egypt
Zip Code:
21611
Telephone:
+20-3-5490935
Fax:
+20 3 5497690
Rating:

Website:
http://www3.hilton.com/en/hotels/egypt/hilton-alexandria-corniche-ALYACHI/index.html
Reservation Email:
AlexandriaCorniche.Reservations@hilton.com
Details
Restaurants
Photos
Guest Rooms
Choose between spacious and contemporary guest rooms with views of the city and partial view of the sea or enjoy the stunning full frontal view of the Mediterranean in the Deluxe rooms. All rooms have air-conditioning and feature LCD TV, a modern bathroom, wireless internet, laptop-sized safe, mini-bar and working desk.
---
Conference & Convention Facilities
Here at Hilton Alexandria Corniche, we provide the space, style and personalized service that you want and expect. From grandiose galas and meticulous meetings to private parties and social soirées, your special occasion is our main event. We offer Internet for free, Pads, Pens, one Flip Chart, Screen, Mints on table
---
Recreation & Guest Services
Whether you're conducting business, keeping up with a fitness routine or looking to spend quality time with your family, Hilton Alexandria Corniche is here to make the most of your stay by offering the services you need, the amenities you expect, and the extras you deserve.
---
Places of Interest
Located in the heart of Alexandria, the Hilton Alexandria Corniche hotel enjoys easy access to a wealth of popular Alexandria attractions. Visit one of the city's many impressive museums, including the Alexandria National Museum, with its large collection of Prehistoric and Pharaonic exhibits. Shop in one of several nearby malls or haggle for souvenirs and take in the sights and sounds of Attarine Souk. Enjoy the soft breeze from the Mediterranean as you stroll down the Corniche and explore the restaurants, casinos, historical sites and markets on this 15km beachfront walkway, or relax and soak up the sunshine on one of Alexandria's fine beaches.