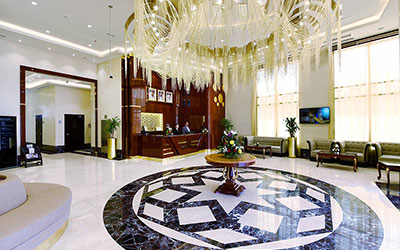 Goldstate Hotel is a leading luxury hotel in Dubai, offering business and leisure travelers luxurious rooms with all amenities, exclusive service and much more. The conveniences offered by Goldstate Hotel are a perfect choice, whether you are visiting Dubai on business or on a holiday. The Goldstate Hotel – Jadaf is a luxurious 4-star hotel in Dubai nestled in a verdant palm oasis, yet retaining the commercial proximities of the city. The Goldstate hotel in Dubai is positioned along the shoreline of the Dubai Creek and the iconic the Dubai Culture Village, offering a rich blend of Middle Eastern architectural and modern facilities.
Hotel Address:
Telephone:
+971 4 373 6000
Rating:

Website:
http://www.goldstatehotels.com
Details
Restaurants
Photos
Guest Rooms & Features
101 guest rooms and suites, conditioned bedrooms, Color TV with remote in all rooms, Satellite TV connection, hairdryer in every room, fully equipped business centre, 24 hours coffee shop, bars & shisha bars as well, fine dine restaurants, 24 hours rooms services, lobby lounge for tea coffee & snacks, private bathroom, outdoor temperature controlled swimming pool, direct dial telephone in all rooms, covered free car parking, LCD Screen TV + VCD in the all-Suites, Gym, Sauna, Steam, & Spas. Saloon with all the modern facilities
---
Conference & Convention Facilities
Wondering where to find the perfect conference venues in Dubai, Goldstate Hotel takes care of all your corporate requirements. Meet your partners, hold conferences or business gatherings at Goldstate Hotel's conference rooms. Our Hotel conference rooms facilitate you with futuristic equipment, up-to-date technology, on-site technical assistance and complimentary high-speed wireless internet access. What's more? At Goldstate hotel our meeting venues can be configured and reconstructed as per your needs. Our dedicated team of specialists, deliver the finest possible standards and provide services such as business lunch or catering services. This further enables you with options to make business meeting a more engaging event with Goldstate hotel.
Make use of the modern atmosphere with outstanding assistance and determined customer service. Goldstate hotel with conference facilities, guarantees to create a memorable event, whether it is a short meeting for few hours or a day long conference with Goldstate Hotel, we are sure to exceed your expectations.
Our Business Center and Meeting Room are facilitated with:
• LCD Projectors
• Motorized Projection Screen
• Complimentary Internet
• Microphones
• Slide and Overhead projectors
---
Recreation & Guest Services
EMS FITNESS
Goldstate Hotel aims to provide hotel guests and gym members a place where they can work-out, de-stress and stay in shape! Smart Time EMS Fitness is the best hotel gym in Dubai because of its introduction to the world's first EMS fitness device. Also the Gym is well-equipped with other regular fitness features, cardio facilities, world-class trainers, qualified instructors, harmonious wellness systems and much more. Smart Time Gym amenities provide a new dimension to your lifestyle, enhancing you with possibilities to stay fit and in shape, so that you can create room for personal training objectives. At Smart Time EMS Fitness in Dubai, you will find a setting that is distinctively devoted to fitness and strength training. You will also experience an unsurpassed level of personal attention provided by professional and established mentors in the world of fitness. Goldstate Gymnasium believes that physical fitness is extremely important for a quality of life, whether you are at work or on a holiday, so if you share the same enthusiasm for healthy living hit the Goldstate Gymnasium!
GOLDEN MASSAGE AND SPA
The Golden Massage and Spa at the Goldstate Hotel is one among the finest spas in Dubai, presenting a tranquil view of the Dubai Creek within an exotic decor that would transcend you to a place of calmness and serenity. The Golden Massage and Spa has eight therapy rooms and is a majestic place to unwrap yourself with specialized massage services and exclusive therapy retreats. At Golden Spa, we use premium brands and high-class methods for your body treatments so that your skin gets the right nourishment and is well hydrated, that has made Golden Spa, the best hotel spa in Dubai.
At Golden Spa there are dedicated areas for ladies and gents, relaxation lounge section, dedicated consultation, signature treatments, traditional massage, etc. We focus to provide a complete lifestyle facility which caters relaxation inclined with beauty regimes and wellness – where you could relax, revive, refresh, revitalize and rejuvenate at the Golden Spa.
SALON
Our beauty salon in Dubai is a premium brand of Goldstate Hotel redefining the philosophy of beauty treatments. Being one of the best salon in Dubai, it has a high demand of clientele that does not only include guests of the Hotel but also visitors. Our salon provides with trendy hair styling solutions and self-enhancing beauty treatments in Dubai. At our beauty salon, we blend style with passion! Our facilities include state-of-the-art equipment, so if you are willing to get that stunning hair and radiant skin. Goldstate beauty salon at Goldstate Hotel offer hairstyling, massages, nail care, nail art, tanning, waxing, makeup, facial treatments, body treatments, etc.