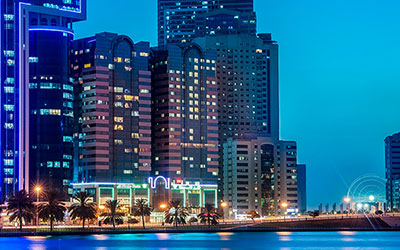 Golden Tulip Sharjah Hotel Apartment is conveniently located in the heart of the city and overlooking the Khalid Lagoon. This Luxurious property is part of the Al Fardan Centre, a multifunctional complex that includes upscale offices, shopping and a fully supervised children amusement centre. Golden Tulip Sharjah is 20 minutes drive from either Sharjah or Dubai International Airport thus making it a very convenient location. Benefits
Card
● 25% off food and beverage
● 20% off best available room rate
● 25% off Spa monthly membership
● Up to 50% off pastry
Certificate
● 1 x complimentary night stay certificate
● 1 x buy one get one free room certificate
● 1 x buy one get one free lunch or dinner certificate
● 2 x USD 20 cash certificate
● 1 x birthday/anniversary cake certificate
Hotel Address:
Al Fardan Center – Corniche Center
Zip Code:
P. O. Box 72595
Telephone:
+971 6 5197777
Website:
http://www.goldentulipsharjah.com/en
Details
Restaurants
Photos
Guest Rooms & Features
Golden Tulip Hotel Apartment has 264 suites divided into: 96 studios, 96 One Bedroom Suites, 24 Two Bedroom Suites, 24 Three Bedroom Suites and 24 Junior Suites with three executive floors, non smoking floors & rooms for physically challenged people.
All apartments are fully equipped for a long stay, fully serviced on daily basis and comprise hairdryer, iron & board, satellite TV channels, safe deposit box, kettle, refreshment centre, International Direct Dial and high speed internet.
---
Conference & Convention Facilities
Catering to your special events is our speciality; be it a conference, seminar, meeting, product launch or even celebrating your 'special day'.
Our team and service specialists at the Golden Tulip Sharjah will take care of it all right down to the nitty-gritty, assisting you with professionalism, giving you the valuable time needed to successfully plan your business, while we give you the utmost care and attention……The final ingredients for a successful event.
---
Recreation & Guest Services
● Indoor Swimming Pool (Operational from 1st June 2016 on wards)
● Non-Smoking rooms
● Free valet parking
● Tour Desk
● 24-hrs currency exchange
● 24-hrs room service
● 24-hrs housekeeping
● Airport pick up & drop off services
● Babysitting services
● Doctor on call
● Pharmacy
● ATM machine
● 24-hrs Super Market
● Beauty Salon
● Barber shop
● Children playing area
● Shuttle bus service to major shopping malls in Sharjah