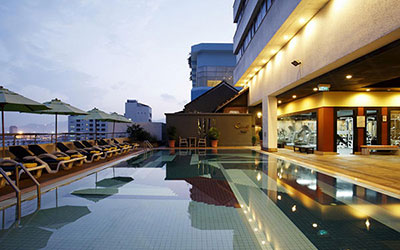 Centara Hotel Hat Yai is located in the heart of the city's commercial, shopping and entertainment centre, situated above the Central Department Store in Hat Yai. The hotel is within a few minutes walking distance from Hat Yai's renowned Santisuk and Gimyong markets and is located 20 minutes from Hat Yai International Airport. The hotel is an easy commute from the airport with a comprehensive range of facilities and accommodation options, making it an ideal hotel for leisure and business travellers.
Hotel Address:
3 Sanehanusorn Road
Telephone:
+66 (0) 7435 2222
Rating:

Website:
https://www.centarahotelsresorts.com/centara/chy/
Reservation Email:
chy@chr.co.th
Details
Restaurants
Photos
Modern in style, the rooms, suites, and self-catering apartments at Centara Hotel Hat Yai command great city vistas. Intelligently designed, combining comfortable living space of up to 76 square metres with a modern urban décor, our 248 rooms and suites offer you to relax in style. Whether visiting the city on business or leisure, you will enjoy a host of amenities, including free Wi-Fi access.
The Sukhontha Hall accommodates up to 200 people for dining and 450 for a reception and can be divided into three smaller meeting rooms.
Support facilities include overhead and slide projectors, screens, TV and video. Wi-Fi access is available with our compliments. • Swimming pool complete with a dedicated terrace
• Cense by SPA Cenvaree
• Games corner
• Fitness Centre
• Connected to Central Department Store
• Tour and excursion services featuring city tours
• Complimentary wireless internet access
• Babysitting service available upon request
• Gift shop
• Business centre
• The versatile Sukhontha Hall offers meeting space for up to 300 persons seated theatre-style and is dividable into three smaller breakout rooms of equal size