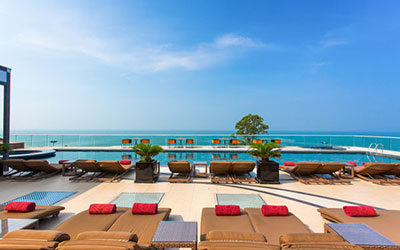 Located at the southern end of Pattaya and a few steps from the Phratamnak Beach, the Centara Grand Phratamnak Pattaya features a stylish design with a dramatic marine themed lobby, Italian furnishings, and a sea-gazing swimming pool and Jacuzzi on the rooftop. The hotel features exquisitely appointed rooms and family suites, each with a Smart TV, a Nespresso coffee machine, a large balcony or terrace, and complimentary wireless internet access
Hotel Address:
Phratamnak Soi 5
Telephone:
+66 (0) 38 250 636
Rating:

Website:
http://www.centarahotelsresorts.com/centara/cgpx
Reservation Email:
cgpx@chr.co.th
Details
Restaurants
Photos
The Centara Grand Phratamnak Pattaya stands above the Phratamnak area and its beach, with each of its guestrooms and suites designed as modern, luxurious urban retreats. Whether you choose our sea-view rooms, generously-sized suites or family suites, you'll find comfort and a place to rest.
Free Wi-Fi access is available throughout the hotel, and you'll also enjoy luxurious amenities, such as a Smart TV, a DVD Player, and a Nespresso coffee machine in all our rooms and suites.
Centara Grand Phratamnak Pattaya offers two event venues, Phratamnak Meeting Room and Espresso Meeting Room, each featuring all the equipment and services required to fulfil the needs of business travellers and groups. Found off the lobby, Espresso Meeting Room accommodates up to 60 persons seated theatre-style. With wireless internet access, an 84-inch flat screen TV with touch panel and great daylight, Espresso Meeting Room is the ideal venue for meetings and presentations. • Rooftop swimming pool
• Fitness Centre
• Complimentary Wi-Fi internet access
• Complimentary shuttle service connecting to the centre of Pattaya and the shopping opportunities of Central Festival Pattaya Beach
• Baht Bonanza Free Spending Money programme available
• Medical services
• Laundry services
• Currency exchange