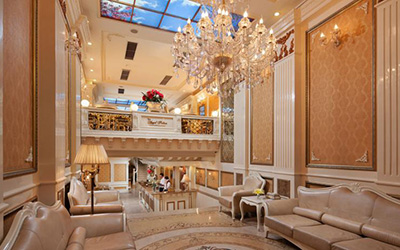 Located along "HangBong old street", one of the busiest and most crowded part of the Hanoi old quarter, Angel Palace Hotel is built with a harmony combination of modern style of European architecture and the crafty style of the Orient. Modern facilities, perfect services, friendly and professional staffs will certainly bring you the most convenience and comfort for your stay in Hanoi Old Quarter. Angel Palace Hotel Hanoi – a paradise for your vacation or business trip.
Hotel Address:
173 Hang Bong Str, Hoan Kiem Dist
Telephone:
+84-24-62998666
Fax:
+84-24-62701595
Rating:

Website:
http://www.angelpalacehotel.com.vn
Details
Restaurants
Photos
Located in Hang Bong street of Hanoi Old Quarter, Angel Palace Hotel has a perfect locations in one of the most traditional and crowded part of Hanoi Centre. As the name of Hotel, Angel Palace is bring you the most luxurious accommodations and full modern facilities with professional services served by hard intensive trained staffs. Just choose Angel Palace Hotel Hanoi & let us do the rest of your trip in Hanoi!