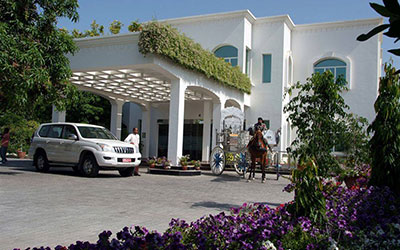 Al Nahda Resort is a unique experience! Nestled in an oasis of thirty acres of Botanical gardens; Wrapped by miles of sprawling greens; brilliant sunshine and deep blue skies, providing tranquility and relaxation; Caressed by the balmy breeze, the rustic fragrance lingers …the mind unfurls, the body awakens … the soul springs back to life! At Al Nahda it's more than just an experience, it's fun, come indulge and enjoy your stay with us and pamper yourself to the most exclusive tailor-made 'Holistic Wellness & Healing' programs. The emphasis is on improving your health without giving up your life!
Hotel Address:
Telephone:
+968 2688 3710
Rating:

Website:
http://www.alnahdaresort.com/
Details
Restaurants
Photos
Guest Rooms & Features
Villa & Suites
The beautiful wellness Resort & Spa spread over thirty acres boasts 109 luxuriously appointed suites and free-standing villas set amid luscious tropical mango, citrus and date palm fruit trees. The rooms are some of the largest in Oman providing spacious surroundings for all guests.
Number & Type of Rooms
60 Executives Suites with a spacious balcony
41 Premium Suites with a small pantry and a spacious balcony
8 Suite Royale with 2 bedrooms, spacious living and dining areas, kitchenettes and private balconies
---
Recreation & Guest Services
Spa & Wellness
The spa programme at Al Nahda Resort & Spa is a unique concept throughout the Middle East. Each guest meets a Wellness Consultant on arrival, to discuss their programme of spa treatments and activities. This individual programme is made up of spa treatments (relaxation, beauty and medical), yoga, fitness and other activities and may be complemented by our Spa Cuisine.
Guests come to relax and regenerate, diet and detox or just to be pampered.
With 65 treatments on offer, there is the choice of something for everyone regardless of your needs. Our 22 treatment rooms provide the perfect settings for relaxing and enjoying your chosen treatment and offer a blend of traditional and new therapies which are designed to promote better balance between mind, body & spirit.
Our Spa team is internationally qualified and provides first class care in a relaxed and tranquil environment.