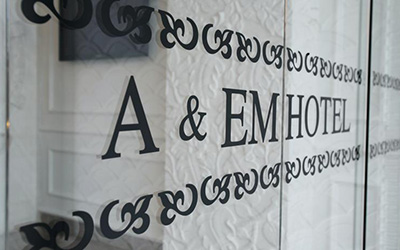 Hotel Address:
179 Ly Tu Trong St., Ben Thanh Wd., 1 Dist, Ho Chi Minh City, Vietnam
Telephone:
(84-28) 3823 5723
Rating:

Website:
http://a-emhotels.com/AEBookingSite/hotel?id=32
Reservation Email:
INFO2@A-EMHOTELS.COM
Details
Restaurants
Photos
Located in the city center, with the most convenient location for guests shopping, transaction, or to any known commercial center of Saigon town, one of the leading competitive advantages of A&Em 179 Ly Tu Trong Hotel. With the bedrooms have windows where you can easily enjoy the fresh air and watch the bustling Saigon, the bustling nightlife. From A&Em 179 Ly Tu Trong Hotel, you can enjoy the cool of the Saigon River, the Opera House, Town Hall, Notre Dame Cathedral, Post Office and the Reunification Palace is only a few minutes walk. The hotel also offers guests many recreational activities as well as relaxing amenities on site for Lamenda Café & Bar vibrant nightlife. Whether you are enjoying a vacation or business, the A&Em 179 Ly Tu Trong Hotel is worthy ideal stopover.